City Kickball is an adult 21 & over Co-Ed social athletic organization.
We play sports the way it was meant to be, FUN!

Join as an individual or with your friends, no tryouts necessary, were all about being social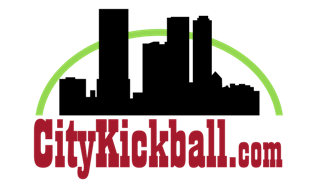 Weather Line: 641-715-3900 ext 537274# (updated after 5:30 on games days)




Boynton Beach, Florida Spring Kickball:
Tuesday Night Adult Coed Kickball 
Next season begins in 2017

Official League Bar: Carolina Ale House

6 week season including season endi

ng tournament
Boynton Kickball is a City Kickball League that plays in the evenings on the softball fields at Caloosa Park in Boynton Beach. It is centrally located and easy to get to from all directions. Game times rotate weekly with 7 & 8pm start times. The season completes with an exciting single elimination tournament and the league champions receive awards.





Great reasons to join us:
Seasons length vary, see individual seasons details for game dates

We not only play kickball but we have social events and a lifetime of new friends that you will meet from our social organization

Your registration includes a "Dry Blend" team shirt that you get to keep

On-site league manager

After the games the fun continues at our official league bar with player discounts & lots of laughs

Fun parties and social events during and in-between seasons



Frequently Asked Questions:

1) If I join with my friends can we be kept together on the same team?
Absolutely yes.

2) If I join as an individual or "free agent" do I have to try out to get placed on a team?
Absolutely not, we warmly welcome those who are new to town or just want to check us out.

3) Is this a super competitive league.
Absolutely not, we do have players of all skill levels and the teams and game schedules are designed with that in mind while keeping it social

4) I'm mostly looking to meet some new friends, is this the place to be?
Absolutely yes, get ready to meet your new bff's.

5) What happens if it rains on game night?
You get wet, However for bad weather we will cancel and reschedule the game.

* View all the faq's here.





Basic Game Rules: in case you forgot from elementary school
 
* Each team will field 8 people minimum, 11 maximum & always have of 4 of each sex, that's right we are coed
* Everyone has to kick but does not have to play in the field
* Guys must be gentlemen and pitch nicely to the ladies
* Games are 6 innings or one hour, which ever comes first
* Regular season games can end in a tie
* 3 strikes or 3 fouls is an out
* 8 fielders minimum & 11 maximum
* Any kick below the waste is a fair kick
* Players are required to have fun
* After the games the fun continues at our nearby official league bar