At Capacity
Ft Pierce Monday Night Adult Coed Social Kickball SU20 Kickball · Co-Ed Social
Sold Out
Mon
TueWedThuFriSatSun
7:00pm to 9:30pm
Registration will close early if it reaches capacity. Don't wait join now
Free Agent Fees

Regular

$52.00

+ $1.99 Processing Fee

Late

$62.00

+ $1.99 Processing Fee
Treasure Coast Social Sports: Ft Pierce Adult Coed Social Kickball League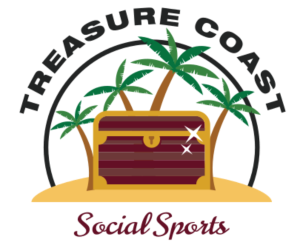 Monday Night Summer

2020- Season



John B Sports Complex - Ft Pierce
Weather line:

641-715-3900 ext 264504

Welcome to Treasure Coast Social Sports.

This season runs for 6 weeks incluing an exciting season ending tournament.
League Details & Fun Stuff:
This fun adult coed social league plays on Mondays from 7-9:30pm with your teams specific start time rotating weekly.

After the games the fun continues at our official league bar with player specials on game nights. Make sure to check out some of our faq's below.
Player shirts that you get to keep included with your registration

No experience or tryouts required, we're a social league

Season runs for 6 weeks including season ending tournament

Fun theme nights & social events

On-site league managers and representatives

Awards for the championship team
The season schedule will be published approximately 1 week before the start of the season.
August 17th: Opening Night
Captains meeting at fields

Player shirts handed out
Faq's:
Q) If I join with my friends can we be kept together on the same team?
A) Yes, select the start a small group option when you register, create a group & name it, then invite your friends to join it.

Q) If I join as an individual or "free agent" do I have to try out to get placed on a team?
A) Absolutely not, we warmly welcome those who join as an individual player (free agent) or just want to check us out.

Q) Is this a super competitive league?
A) Absolutely not, we do have players of all skill levels and the teams and game schedules are designed with that in mind while keeping it social.

Q) I'm mostly looking to meet some new friends, is this the place to be?
A) Absolutely yes, get ready to meet your new bff's.

Q) What happens if it rains on game night?
A) We will cancel and reschedule the game if possible. Keep in mind we do play in light rain.
* View all the faq's here.
Tournament Details: (may change based on overal # of teams and available field time)
The season ending tournament is single elimination format

Round 1 is 5 innings with an accuracy kick to settle a tie

Round 2 is 6 innings with up to 1 extra inning of Kansas City style play followed by an accuracy kick if still tied

Rounds 3 (finals) is 6 innings with up to 2 extra innings of Kansas City style play (if time allows) followed by an accuracy kick if still tied