Register
Boynton Tuesday Night Adult Coed Kickball SU22 Kickball · Co-Ed Social
Team Fees

Regular

$54.00

per player + $1.99 Processing Fee

Late

$64.00

per player + $1.99 Processing Fee
Free Agent Fees

Regular

$54.00

+ $1.99 Processing Fee

Late

$64.00

+ $1.99 Processing Fee
City Kickball - Boynton Beach League (21+ coed league)

Tuesday Night Summer 2022 Season
Caloosa Park - Boynton Beach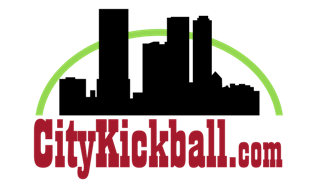 Welcome to City Kickball's Boynton Beach league.
This season will play 6 weeks of Adult Co-ed Kickball including a season ending single elimination tournament.

Weather line: 641-715-3900 extension 537274
Games are played on softball field #4 at Caloosa Park

Registration Options:
Free Agent - Place me on any team.
Small Group Member - Just me and some friends who want to be kept together.
Team Player - I was invited to be on a specific team.
Team Captain - I would like to be captain and will have players sign up for my team.
** Note - If your captain hasn't started the team yet, just register as a free agent and put in the notes the team that you want to be on.

Season Calendar & Details:
See season schedule for complete listing of game times (published approximately 1 week before the start of the season.)
Official League Watering Hole:
Carolina Ale House - 365 N Congress Ave, Boynton Beach
Player Specials.....
Bucket Aluminum Miller Light, 5 for $15
Miller Draft Pint $3 or $10 Pitchers
Absolute Vodka, $5
1/2 priced Chili Nachos, Frickles & Ranched Onion Stings
Opening Night
- New captains meeting at the fields, 6:25pm.
- Player shirts handed out.
- Tournament is single elimination format.
* Round 1 is 5 innings with an accuracy kick to settle a tie.
* Round 2 is 6 innings with up to 1 extra inning of Kansas City style play followed by an accuracy kick if still tied.
* Rounds 3 (finals) is 6 innings with up to 2 extra innings of Kansas City style play (if time allows) followed by an accuracy kick if still tied.
* Note, League reserves the right to make adjustments to the format based on available field time & unexpected circumstances beyond our control.
League Notes:
Now accepting registrations!